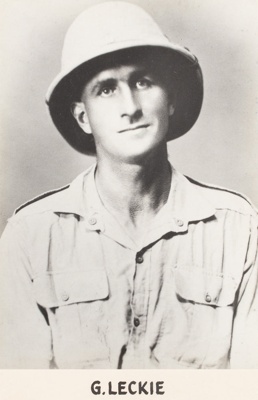 Gunn Leckie. Photo courtesy of the Wyndham and District Historical Museum, obtained online through the NZ Museums website.
On Queen's Birthday weekend, 2020, I spent about five hours in the Invercargill Cemetery, walking the lines of the graves and photographing likely inscriptions for future blogging research. By chance, the previous day in Dunedin, I had found and bought a history of the Redan - a small farming area well off the highway I had travelled on south to Invercargill.
"Redan - Valley of Farming and Flaxmilling" had the following account of the death in action of one of its sons and it was a surprise to find him commemorated on the stone above the grave where his mother was buried.
Gunn Leckie's story - in a report which resulted in his being awarded the Distinguished Combat Medal (posthumously) - is abbreviated below:
Three enemy tanks directly out in front started to advance again and I had visions of being run over and squashed. However they came to a halt sixty yds in front. A/Sgt Lockhart ordered us to fire at the slits and we opened fire. I fired half a magazine but received such a hail of bullets decided it was useless firing at a tank once he had spotted you. Pte "Gun" Leckie in a trench a few yards to my right was firing steadily with a Boyes A Tk rifle. Apparently he was annoying the tanks as twice I saw the turret swing round and send a hail of bullets in his direction. He bobbed down each time the turret swung round and up again and continued firing when the tank was concentrating on other objects. He ran out of ammunition, yelled out for more, which we threw over to him. "Gun" Leckie then continued firing and we could actually see the bullets bouncing off the tank, it was so close. Suddenly, and very quickly the turret swung round, and the tank opened fire with its 75mm, "Gun" Leckie receiving a direct hit with the shell, which also destroyed the Boyes A Tk Rifle and blew away part of the parapet. The tank could not have been more than fifty yards away from him at the time...
Report by 9743 Sgt P. A. McConchie, HQ Coy, 20 NZ Bn.
The Boyes anti-tank rifle was a 1937 design. It fired a .55 inch armour-piercing round and had a vicious kick, despite a sliding recoil system for the barrel and rubber padding for the user. It was effective in the early stages of World War 2 against armoured and unarmoured targets.
By the time "Gun" Leckie was using it, it was obselete and only a lucky, close-range hit on a lightly-armoured part of a 1940s tank stood a chance of damaging it.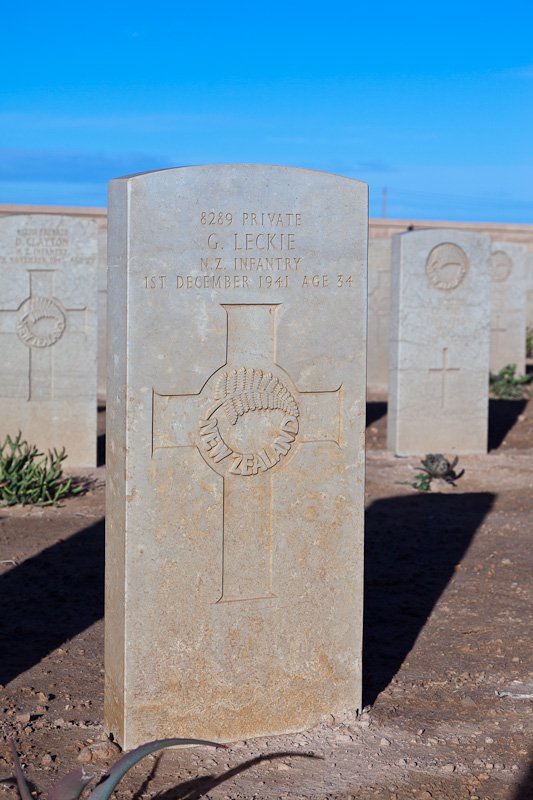 Knightsbridge War Cemetery, Acroma. Photo courtesy of the NZ War Graves Project.
Invercargill Cemetery.
As can be seen, Gunn's brother Cameron also died in North Africa. He was in the 7th Anti-tank Regiment of the 2nd NZ Divisional Artillery. He lies buried in Heliopolis War Cemetery in Egypt and is reported to have died of sickness.
The story below would suggest that Cameron went missing in battle, found his way back to British lines and died later from sickness.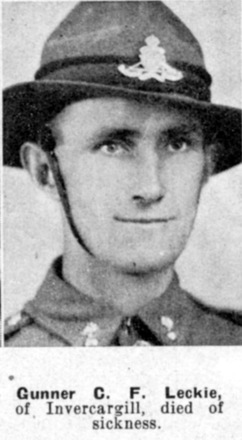 Photo courtesy of the Online Cenotaph.
MORE MEN TRACED
PRISONERS OF WAR
ONE DIES FROM SICKNESS
(P.A.) WELLINGTON, Friday. A further 77 members of the New Zealand Expeditionary Force previously reported missing have been traced, 72 of them being prisoners of war and five having found their way back safely to the base camp. One death from sickness is reported. An official casualty list issued to-night is as follows: — -Auckland Star, 25/10/1941.
At the time of Cameron's death his unit was recuperating from the hard time they'd had during the Greek Campaign and the German airborne invasion of Crete. My best guess, based on the Official History of the 2nd NZ Divisional Artillery, is that Cameron went missing in Greece and managed to make his way to Egypt from there.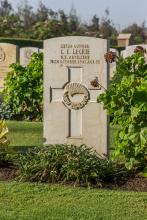 Photo courtesy of the NZ War Graves Project.
The Redan Roll of Honour contains the names of eleven young men who went to the Second World War and returned. The Leckie brothers were two of the five who did not.